prevue

"The Rosemary Clooney Story"
May, 1954

Rosemary was celebrating her fifth birthday when this was shot--Betty was only two then

The whole family--Rosemary is last one on right in front row, Betty is at extreme left.
Popular music was a big thing in the life of the Clooney sisters long before they became a big thing in popular music. One aunt was vocalist with a dance band and another aunt was maestro of an all-male band. Papa was an expert on the ukele and Grandfather, while not musically minded, let the girls sing at this political rallies in Maysville, Ky.

"We sand things like 'Home on the Range'," Rosemary recalls. "Then at one rally we brok into 'Flat Foot Floogie' and Granddaddy fired us."
That might have been the end of their singing career if Betty hadn't decided one day that they should audition for jobs on radio station WLW in taheir new hometown, Cincinnati. So one Thursday right after school--Rosie was 16, Betty 13--the duo trooped down to try out for the "Moon River" show.
"We got the job," Rosemary says, "but it didn't last very long because the show went on at midnight. When fall and school-days came, we had to do daytime shows." Two years later, they weren't doing any shows on WLW--Tony Pastor had blown into town.

The sisters sent their first autographed picture to their mother.
It was a one-night stand duringa nation-wide tour and Tony needed a singer. His agent said he knew of two for the price of one, and tracked down the Clooney sisters at a public swimming pool. He told them to come right away to sing "for a friend of mine."

With their wet hair hanging in strings and their feet in flat heels, the girls went to the appointed address, were more than surprised to find Pastor. But according to Rosemary, "The boys in the band were even more surprised to find two bobby-soxers. They were afraid they might have to babysit."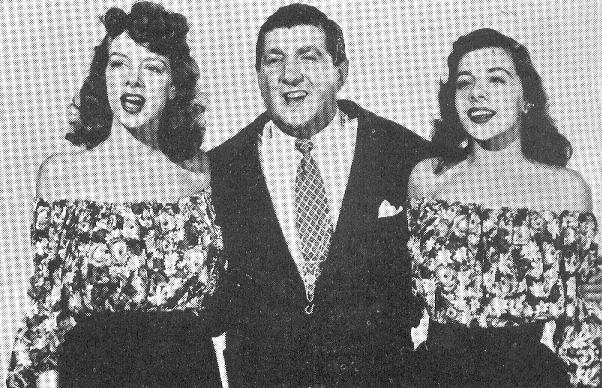 Pastor asked them to sing. They did -- "I'm Laughing on the Outside," without accompaniment -- and got the job for the night. Then Pastor asked them what the chances were of their going on the road. That chance was all the girls wanted, and off they went, chaperoned by Uncle George.
"What a watchdog he was," moans Rosemary. "He thought it was awful for girls to smoke in public."
The girls stayed with Tony for three years; then Betty decided to break up the sister act. She got her own TV show in Philadelphia and Rosie went to New York to learn all about show business.

Mitch Miller at Columbia Records think Rosie's singing style is pretty terrific stuff.
Rosie was on her own now, and the first thing that happened was a contract with Columbia Records. It wasn't anything earthshaking; it called for a minimum of four sides a year at $50 a side, but it was a start. And there were personal appearances.

"I hit every saloon on the Eastern seaboard," Rosemary sighs, "and I soon discovered that no one's a hit unless his record has been a hit there. Cleveland and Milwaukee were my best towns.

"Everywhere I went I talked to the disc jockeys. They can make or break a record. They get 60 releases a week, only have time to listen to the first thirty seconds. But if you've made friends with them, you can get in a whole minute. And if they like it, then you're in."

The disc boys certainly liked "Come On-a My House"--it's sold over a million already. When the bewhiskered head of Columbia's popular record department, Mitch Miller, first played the tune for Rosie, she was horrified, practically refused to record it. But she did and left immediatley for Florida, which is the last place a record catches on.

So when Rosie came back to New York 10 days later and her personal manager Joe Shribman drover her up and down Broadway so she could listen to all the record stores blaring the tune, she couldn't believe her ears. Nor could she believe her eyes, later, when she saw a Paramount talent scout heading her way.

One of the fantastic offers Rosie got after her record hit was a job in Las Vegas. An dafter she'd been there for a while she was told that a aramount talent scout was on his way to the club. Rosie got very nervous.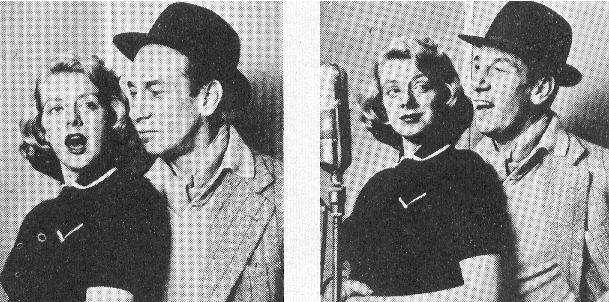 Each recording one side of the disc,
Rosie sings "Man!" and her actor-producer husband Jose Ferrer sings "Woman!"
"When I was a kid," she relates, "I was a real brat. No sooner had they put braces on my teeth than I had them off. The result was that I had three really bad teeth on the left side of my mouth. I always meant to have them capped, but never got to it. I was convinced taht if the joe from Paramount got a look at them, I was finished.


The Stars are Singins with Anna Marie Alberghetti and Lauritz Melchior was first,
Here Come the Girls with Bob Hope, second.
"So I arranged with the guys at my table that when I came to sit down between shows, the empty chair for me would be on his left. Well, after all that, not only did he not notice my teeth, but he didn't say a word about my singing. I was absolutely stunned, thought to myself, 'Well, there's always records.' He even disappeared before the next show.
"Imagine my surprise when I was told the next day that he'd given me a big rave, had a contract all ready. The Stars are Singing was the first movie I made and then we did Here Come the Girls. Boy, I was really high on success then."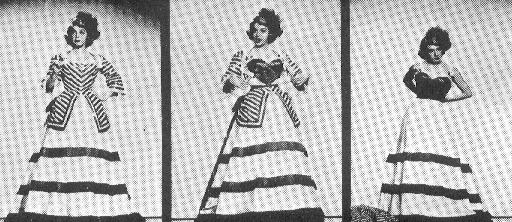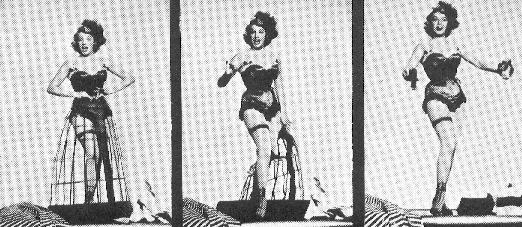 In Paramount's terrific musical-comedy western, Red Garters, Rosie does mild strip.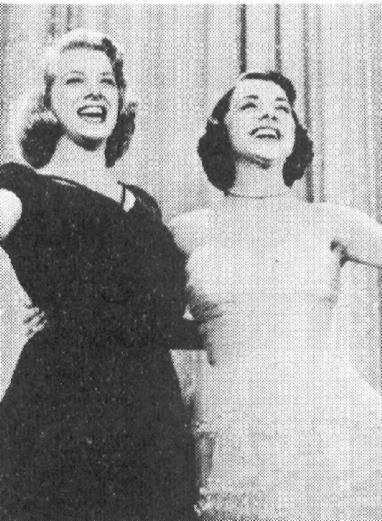 Rosie had come a long way since she and Betty had had thier first audition. She had conquered show business -- radio, TV, records and Hollywood were hers for the asking. How did she feel about it? "I didn't need anything to drink," she says, "I was high on success. I felt as though I were on a merry-go-round, going 65 miles an hour all the time."
One of the biggest thrills Rosemary had was when the Japanese made a recording of "Come On-A My House." "The singer was a complete unknown before she made the record," Rosie says. "Then all of a sudden--boom. She was the biggest hit in Japan. We met one day. She spoke no English and my Japanese is nil. All we could do was hum the song to each other, but we got along fine."
The one thing that has happened to Rosemary that she doesn't like is a result of her newly inaugurated movie career. Whenever she's making a picture, Rosie has a bodyguard who watches her weight.
"It's like being haunted," she says. "He follows me around everywhere I go, watches me like a hawk when I eat." But the nicest part of her movie career came the day someone called her "Miss Crosby."
Working all night with Gary Moore on
Cerebral Palsy telethon, Rosie's pooped at end.
After working with Bing on Paramount's so far unreleased White Christmas (with Crosby and Danny Kaye), Rosie can think of no nicer compliment than being tagged "Miss Crosby." According to the Hollywood set taht means some real nice singing, of course, plus a natural talent for acting. Most of all, though it implies being easy to work with, having a comfortable, relaxed relationship with the rest of the people on the set. Crosby himself thinks she's the greatest girl singer in the entertainment business. And her director at Paramount says, "she's the closest think in comedy to a Carole Lombard I've ever seen--with a voice. She's a terrific find."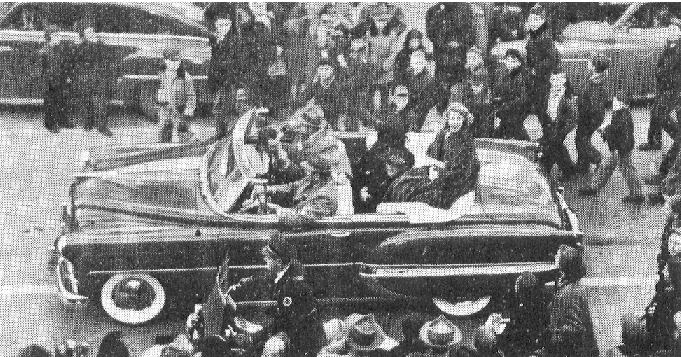 Rosemary's fans in Kentucky home-twon names a street after her.