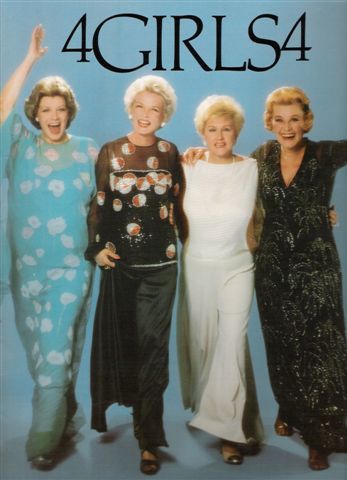 The Four Girls Phenomenon
For twelve years, 4 Girls 4
was an unprecedented
sensation across the U.S.
by Matt Connor - Spring 2004
It was one of the most surprising and unconventional show business successes of the1970s and 80s. At a time when the biggest touring acts in the country were youth-driven pop acts like the Eagles, Abba and the Bee Gees, three middle aged female singers -- none of whom had had a chart hit in decades -- joined forces with the fourth-billed star of a long-cancelled TV sitcom to create what can only be described as a genuine show business phenomenon.
It was called 4 Girls 4, and when it first appeared on the scene in 1977, it brought staggering new success to a quartet of show business veterans who were far from their commercial peak, and launched a completely new genre of entertainment that thrives to this day: The Oldies Nostalgia Tour.
"They were like rock stars with an older audience," said Allen Sviridoff, who was road manager for the group at the time. "It was pretty phenomenal. The theaters that they played were all 2,500 or 3,000 seats and they were packing it for five to eight shows a week. There were a lot of people packing these shows, and it was several years of a phenomenon."
"The 4 Girls 4 created a whole new career for all four of them," said Bill Loeb, who at one time or another had managed most of the original 4 Girls 4. "It played all of the big theaters back east, on the coast and the midwest. It did phenomenal business. They were booked a year in advance. It was a tremendous success. We're talking big theaters in the round and concert halls, all the big theaters, where all of the biggest performers in the business were performing. We were playing in the top places in the country."
VARIETY, August, 1978: "'4 Girls 4', unpredictably, yielded the biggest gross of '78 in the Venetian Room [in San Francisco], gallons of favorable ink and, artistically, a hybrid act with estimable quality, not to mention money's worth length. This quartet set ran an hour and 50 minutes and left the sold-out dinner show crowd wanting more..."

The New York Times, May 18, 1979: "They set their first house record in May 1978 at the Fairmont Hotel in New Orleans, where they played their first engagement after a couple of break-in performances the preceding year. Since then, they have broken records at two other Fairmont Hotels (in San Francisco and Dallas), at tents in Beverly, Mass., and Hyannisport, Mass., at the Mill Run Theater, a theater in the round outside Chicago, at the Registry Hotel in Scottsdale, Ariz., and at the Music Hall, a Detroit Auditorium."
The act continued, with surprising strength, for twelve years, finally coming to an end in 1989. Even then the stars were still drawing critical praise, and appearing in large cities like Manhattan. And today, fifteen years after the last chorus of the show's finale was last performed, 4 Girls 4 remains an affectionate memory in the hearts of the thousands of fans who saw them perform throughout the country.
One of those fans was Pam Schlereth, who maintained a warm, thirty-year friendship with Rosemary Clooney, one of the key singers in the act. Schlereth and her friend Lonnie Anderson had seen 4 Girls 4 at least forty times during the 12-year duration of the show's run.
"Lonnie and I, when we talk -- no matter when we talk, and we talk at least four or five times a week -- a conversation never goes by that something in that 4 Girls 4 era doesn't pop up," Schlereth said. "Never, because we saw it so many times... I just think it was the best possible time in entertainment. It was just magical, just to walk in that theater with them performing. Just magical."
Go To Page: 1---2---3---4---5---6---7---8---9---10---11---12---13---14 --- NEXT>>>